Bedol water clocks have now become the superstar of the market. They possess an exclusive quality to run solely on water, helping to reduce our carbon footprint. Apart from this, these watches are environment friendly, where they also come with different shapes, color and sizes. In addition to this, these clocks are of high quality and perfectly accurate.
These clocks require no batteries, chemicals or any other form of energy to work rather these eco-friendly clocks works just by filling water into them and they will run for six months. There is a memory chip inside the clock, for when you are filling water inside the clock; it is able to continue keeping time.
The watch is also installed with a feature of alarm, which can be set on daily and hourly basis. In keeping with its progressive, Bedol also offers a wall wave clock, which can also display the humidity and atmospheric pressure of the room.
*source: http://www.earthtimes.org/green-blogs/eco-friendly-gadgets/bedol-water-clocks-saving-energy-water-20-Aug-11/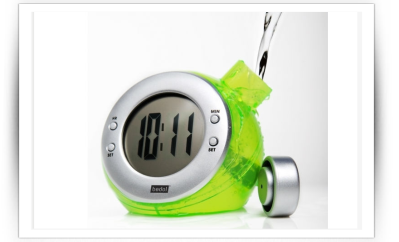 *Image source: http://www.earthtimes.org/green-blogs/eco-friendly-gadgets/bedol-water-clocks-saving-energy-water-20-Aug-11/