BioLite is a first camping stove that can burn wood for cooking and recharging USB-enabled electronic devices. The CampStove was launched in 2012 and is predominantly used by outdoor enthusiasts. The BioLite Camp Stove is a top loading wood stove suspended on a fold-out stand. It comes with an orange battery pack and power converter which converts the heat from a fire into electric power and powers an integrated fan that is used to intensify the heat produced by the wood stove.
Renewable biomass fuels such as sticks, pinecones, and brush power the stove, replacing resources like charcoal or petroleum. The CampStove can boil water in five minutes. Smaller than the Home Stove, the CampStove is 8.25" tall and weighs 33 oz, but like the larger model, excess heat is converted into energy. BioLite sells stoves in over seventy countries. The CampStove has also been used as an emergency preparedness tool. In the aftermath of Hurricane Sandy, tables were set up in New York City, offering those without power hot drinks and a chance to charge their cell phones.
Temperatures can reach between 1200-1600 degrees F in the BioLite. The BioLite Portable Grill, released in 2013, is designed to work with the CampStove.
Features include a fuel intake lid for fire maintenance, compact design with foldable legs and a travel cover for transportation. The travel cover can additionally function as a serving dish or cutting board. The steel grill grate has three temperature zones for searing, cooking, and toasting. The grill weighs in at just less than 2 lbs (0.9 kg).
*source: http://www.appropedia.org/Film_Farming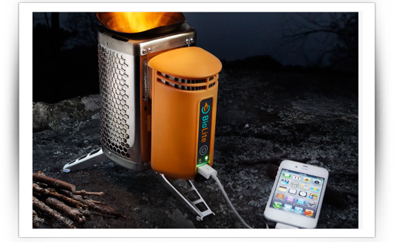 *Image source: https://www.ems.com/on/demandware.static/-/Sites-vestis -master catalog/default/dwca01daf9/product/images/1309/498 /1309498/1309498_915_alt2.jpg